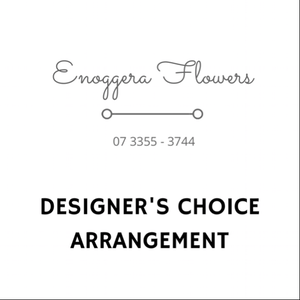 Enoggera Flowers
Designer's Choice Arrangement
Regular price
$65.00
$0.00
Designer's Choice Arrangement
Designer's Choice Arrangement from just $50.00
Available in pastel, bright, seasonal or a single colour theme.  Designer's Choice Arrangement offer our best value and quality blooms available in-store.   Our designers handpick and expertly arrange your flowers on request, creating something that is truly beautiful and unique.  No two are ever the same!!
Designer's choice flowers are custom made for you. Due to seasonal and regional availability the florist will make up a unique arrangement for you that will not bare any resemblance to the image shown. Stem count will vary.
Same Day Delivery please place your order online by 12:00 pm Weekdays & 9:30 am Saturday or Call +61 (07) 3355 3744
Please note that this product is exclusively available from Enoggera Flowers and is only for delivery in the Brisbane region.
For orders outside the Brisbane region please see our Interflora selection
Our design team create your order using your preferred style as an inspiration template for colour and composition but it will not be identical to the guide image shown.  
Enoggera Flowers prides itself on our very own, bespoke, custom made and distinctive flower arrangements and while we will do our very best to capture your vision please know that seasons, availability and each florist's personality take a role in the arrangements we create and this can vary on any given day.  
By continuing to checkout, you acknowledge this.